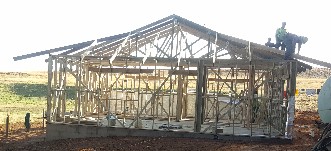 Timber Homes & Wooden Decks
While offering the most comprehensive knowledge of our products and service, we offer competitive packages on jobs undertaken. Whether your home building project is large or small, quality workmanship is our priority. We are rapidly establishing ourselves in the marketplace and have a built up a portfolio of completed projects for our discerning clients. Our "hands on approach" has enabled us to maintain efficiency and excellent workmanship from conception to completion of our projects undertaken. Providing you with safe and eco–friendly living environment's
IMPORTANT FACTS
Timber frame is not a "cheap" system but an alternative building system.
All structures comply with SABS code 082.
All structures are signed off by a structural engineer
Timber Homes & Decks is registered with NHBRC
While nothing can compare with the beauty of a natural wood home, here are some practical reasons for selecting timber over traditional building methods:-A timber home is well insulated against the elements. Far less energy is used to heat and cool the home, resulting in significant savings on electricity. GO GREEN WITH TIMBER FRAME.